Hand Luggage Only!
I can't entirely describe myself as a digital nomad, but I have been spending more than half my year away from home. Even though I make it home somewhere between every 1-3 weeks I do need to apply all the same nomadic techniques to work from hotels, B&Bs, apartments and offices in different parts of the world. In particular I've tried limiting myself to hand luggage only where possible.
Up until recently the decision between having checked luggage or just hand luggage was simple. Less than 5 days I can travel with a laptop bag containing a few changes of clothes, any trip of a week or more I would need additional luggage.
Few of my trips are direct flights, one of the side effects of living in Scotland, and if the first leg of a journey is delayed there is a very short time between getting off one flight and on to another. After waiting too many times at baggage carousels for luggage that hasn't made a connection I decided that all my trips would be hand luggage only, unless I needed to take additional equipment like circus or video equipment. My laptop bag is a little small for five days so I spent some time looking around for a bag that would suit more extended trips. One thing I've found is that US cabin bag allowances are different from the European carriers and the main European airlines differ from the budget airlines.
I've spent quite a lot of time looking for the right type of bag. There are some great bags out there and of course a lot of crap, ranging from Samsonite to Millets. I do like the Tom Bien bags, they have bags that are a perfect fit for every hand luggage size needed, but they are not available in Europe, I've looked at some interesting new functional designs on Kickstarter but like many bags they are all ….a little boring!
I decided my criteria should include something, unique and interesting as well as a good fit for my needs. During my search I've had to become something of a travel technology geek, I haven't yet bought myself a Scottevest but….
In the end I settled on an Isar rucksack from Côte & Ciel, they look a little unusual, are well thought out from a design perspective and are made from some nice, high quality materials. The vertical zip which goes all the way down the back makes accessing anything inside very easy, and with the laptop section placed firmly against the wearers back, it makes it simple to get to one side without disturbing the other. There are also a few hidden pouches and pockets built in.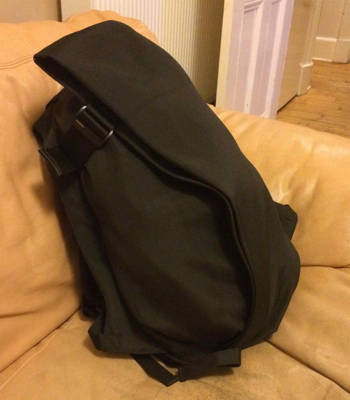 There were quite a few other attractions to this particular rucksack not least the advert they made for it.
The company is based in Paris and I ordered one online in time for my next 15 day trip from Scotland to Las Vegas and London.
It was challenging to go with hand luggage only on the Las Vegas/London trip due to the range in climates, temperatures and activities. I needed business casual, leisure clothes and gym wear suitable for 30 degrees plus in Vegas and winter clothes and circus training gear for London in November. Layers I hear you say!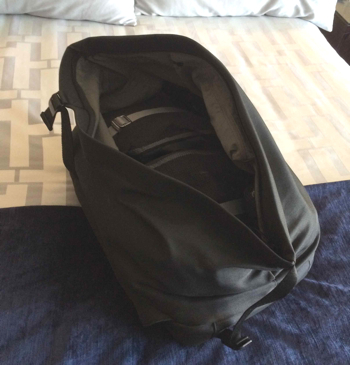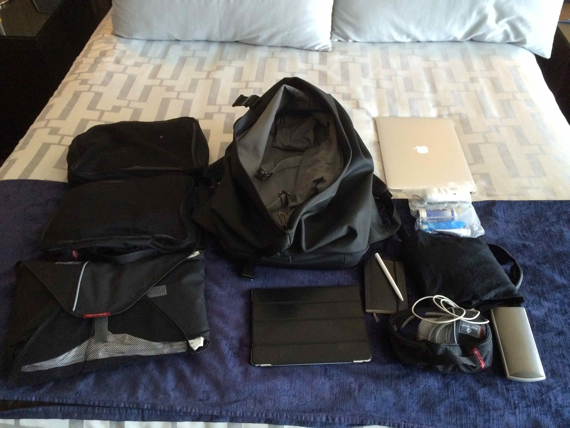 To pack in as much as possible I bought some Eagle Creek packing cubes and an Eagle Creek folder.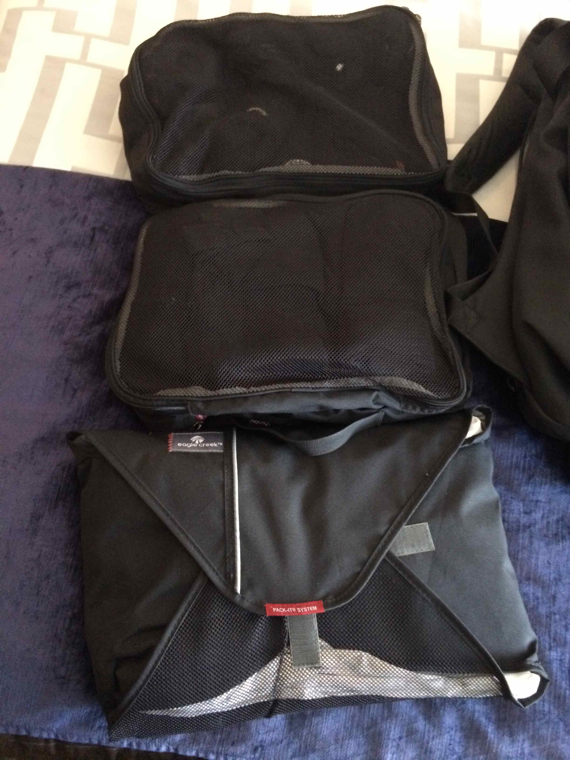 The double sided cubes worked out really well. They can be used with one side for wet clothes and the other for dry, or one side clean, the other for dirty. This really helps out when working with limited space on a multi-hop trip. One half cube easily takes a weeks worth of underwear, the other a weeks worth of T-shirts and gym wear. The folder takes three shirts and a pair of jeans. I also bought a quarter cube for laptop power supplies and cables.
I think I got what I wanted from this combination something I could wear through security which doesn't look huge, was comfortable and I could easily get the things out I needed.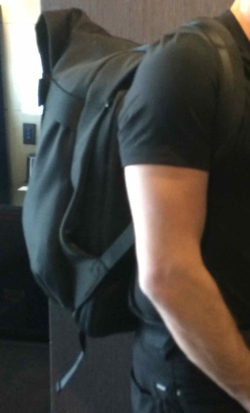 Also something that would easily fit in the overhead compartment on the plane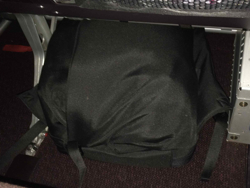 or under the seat.
My last metric - was it 25Lbs(11Kg) or less….well the scales have it at exactly 25Kg.
After starting to write this article I have seen a acouple of similar articles this week from other people who have similar motivations, Leo Babuta from Zen Habits and Mish & Rob from Making It Anywhere who have all managed to get below 10kg!